Avia Prime is a company with its customers at heart. We want to offer them as many possibilities as we can within a company, so we acquired Serbian JAT Tehnika, situated in Belgrade, in late 2019. We are all about the complexity of our products and we gained another base where we can maintain aircraft, along with two in Poland and one in Slovenia with this acquisition. JAT Tehnika with its vast heritage of almost a hundred years added various capabilities to our group.
One of those capabilities that JAT Tehnika added to the group is aircraft painting. Along with checks and engine repair, we provide component or partial painting an airplane solutions for Airline companies
We are sure that some of you might be aware of the long process that needs to be undertaken to start with the painting procedure. We will share some facts and interesting information regarding the matter.
For each plane, it is important to paint it every seven to ten years because it protects against salts, oxidation, and spill of jet fuel that can harm a metal. Before we apply a new color aircraft's fuselage has to be smooth and colorless.
Painting an airplane – how we do it?
Hangar space that is meant to be accommodated to fit planes for painting has to be separated and placed in a clean environment.
This job requires seven steps The main steps are stripping off the color, applying primer, and the actual painting.
Painting an aircraft Step 1 – PROTECTION OF SENSITIVE ELEMENTS
We have to protect all sensitive elements on an aircraft. To prepare a plane for the painting process, we need to protect composite surfaces, window surfaces, gears, etc. because chemicals used could damage the airframe.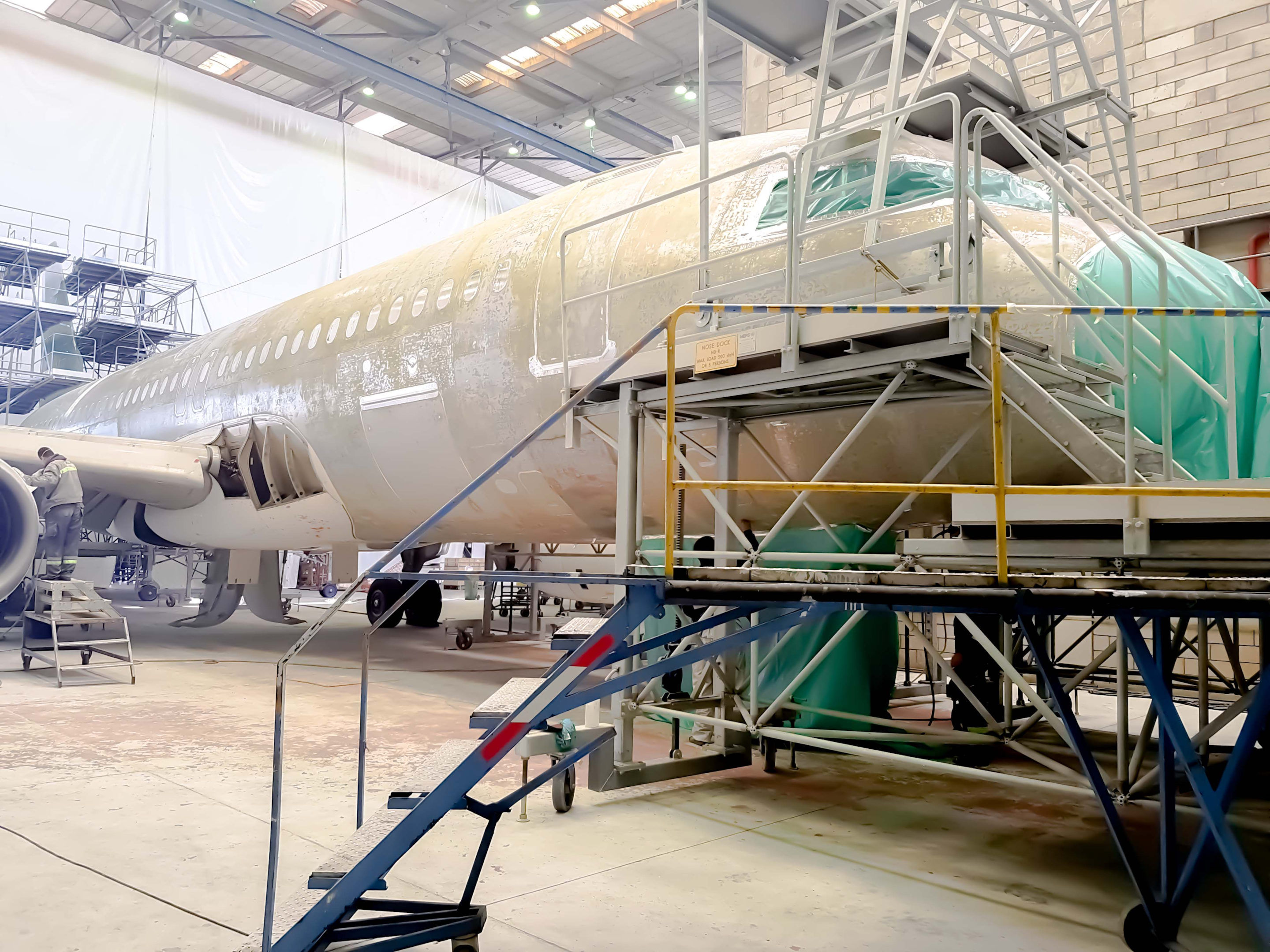 Step 2 – STRIPPING OFF OLD PAINT
The most important step is stripping off the color. There are two major ways of doing that. One of them is sanding the paint off, but since it is time-consuming and could harm the plane's surface it is a less favored way. The other one is to spray solvent and wait for the paint to dissolve, this technique is done within a day.
The livery color of an average-sized plane goes at 450 kg and if not stripped properly extra weight will appear.
Step 3 – WASHING THE PLANE AND APPLYING SEALLING MASS
After we remove the existing color we need to wash the plane first before removing sealing mass, and the other time after applying the new one.
Step 4 – PROTECTION OF AIRCRAFT'S ELEMENTS BEFORE APPLYING PRIMER
We are protecting elements that are not getting painted before getting primer. A check is being made if protection is quality done sufficient and up to standards. Impurities and grease are removed from the surfaces we need to paint.
After that, mechanic engineers need to make sure that there are no cracks or anything else requiring the servicing other which has to be repaired. All corrosion is treated if necessary, all flaws are removed. Before going to the next step we should have smooth livery.
Step 5 – APPLYING PRIMER
After everything is polished we start with applying primer color. That is performed in two or three layers in between which we are taking time for the drying.
Painting an aircraft Step 6 – APPLYING TOP COAT
Applying topcoat is done in two or three layers depending on the customer's demand. After every layer thickness of color is being measured.
Step 7 – APPLYING MARKS
After the topcoat is fully dry we are starting with marking the plane. This means we are posting registration numbers, danger tags, and obligations on engines/fuselage/wings. Marks could be glued (foils) or painting over an Airline paint scheme.
Those steps could be complemented with some extra steps according to the customer's conditions.
Here you can see the whole aircraft's painting process:
With that properly done the aircraft`s exposed surfaces are protected from corrosion and deterioration and by extension the aircraft itself. We put our men through all training to do the best job possible and keep the planes secure.
Our painting slot doubles as a maintenance space. Depending of the needs we can do both there. Characteristics of slot used for painting purposes:
ICAO Code-C aircraft painting slot
Dimensions: max length 58m, max width 50,4m
B737/A320 & smaller narrow-bodies is what everyone needs in the future
With countless done makeovers, JAT Tehnika has gained needed experience to make one's aircraft perfectly painted. With every painted aircraft we justify JAT Tehnika's motto Excellence Through Experience.